Little Sprouts is a licensed, high-quality center that provides care and education for children six weeks to 12 years of age. Little Sprouts provides before and after school care for school-age children and has a summer program featuring various camps, field trips, and other fun and educational outings and activities.
Little Sprouts is open Monday-Friday from 5:30 a.m. – 5:30 p.m.
Our team is ready and excited to care for and educate your child, and we look forward to providing him or her with a wholesome, well-rounded experience that he or she will be fully engaged in.
Mission Statement & Vision
To ensure we provide the best care possible for the children enrolled at Little Sprouts, we've established the following mission and vision statement:
Mission Statement
The Little Sprouts' mission is to provide high quality care in the community through:
A safe and secure environment
Strengthening families
A play-based approach
Accessible care
Developmentally appropriate practice
Vision
Our vision builds off the Little Sprouts' mission, which is to strengthen families by involving the community to make sure our children are safe, engaged and happy. We want our children to look back at their experience and see that their time with us was a cherished part of their childhood.
Our Philosophy, Curriculum & Assessment for Development
For our team at Little Sprouts, teaching children is much more than just providing them with the basics. For us it's about giving them the skills necessary to progress, grow and mature positively to ensure they are Kindergarten ready. To do this, we have set guidelines in place using the following philosophy, curriculum, and assessment for development:
Philosophy
Our philosophy is to foster the social and emotional development in young children. By creating strong, positive and secure relationships with the adults and children within the program, our program will provide a safe and predicable environment. Little Sprouts has a daily emphasis on self-concept, self-control, cooperation, social relationships and knowledge of families/communities by participating in routines and activities that foster independence, positive self-esteem and social skills.
Curriculum
At Little Sprouts, we follow the Creative Curriculum to teach and care for the children at our center. As part of this curriculum, we gather information about each child's developmental abilities and evaluate progress. This information is then used to modify and adjust what we are doing in our classroom to deliver the best individualized instruction for each child. This evaluation is communicated to families periodically during the school year using various formal and informal tools, forms and resources.
Assessments
To evaluate and track each child's individual development during their time at Little Sprouts, we use the Teaching Strategies GOLD assessment tool. This is an on-going assessment system, meaning that teachers are continually watching, observing, and documenting each child's development. The same tool is used from birth through school age, to allow a more complete picture of each child's development. By tracking a child's development, our teachers can plan activities that are appropriate for each child's developmental abilities.
At Home Learning
ReadyRosie is a tool that provides learning content and activities that parents can do at home with their child. ReadyRosie supports language and reading skills, mathematical thinking, social-emotional learning, and healthy routines. This is to ensure families and children are successful at learning at home. Each activity or game is modeled in a two-minute video that caretakers and the child can watch together and complete.
Communication
Communication with our families is our top priority. We utilize an innovative communication tool, called Procare, to help share information with our families.
At Little Sprouts, we want to make sure that daily photos and little tidbits about your child's day can be easily shared with you. Having the ability to notify a parent of your child's achievement or what to watch for as they make milestones is something we don't want to be missed by the most important people of their lives.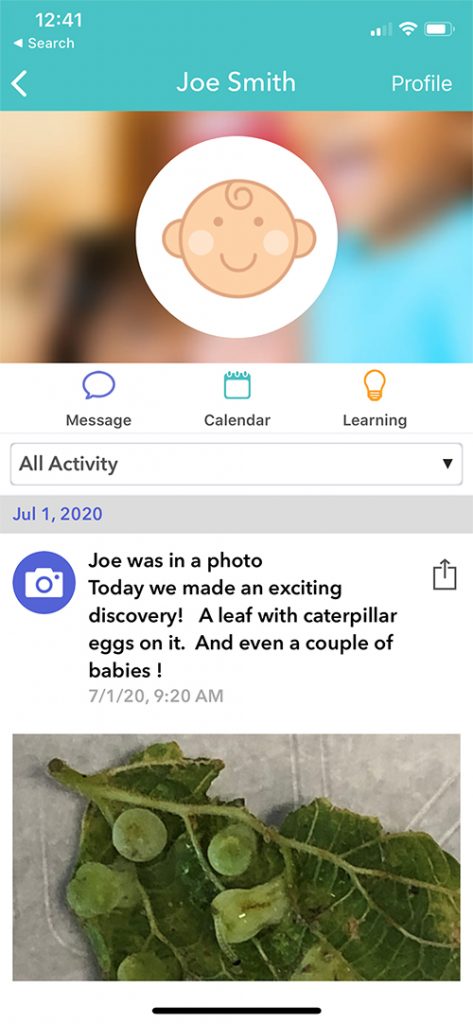 Scholarships
Scholarship assistance is available for those who qualify. Income thresholds for scholarship assistance are above the income threshold for state assistance. If you do not qualify for state assistance, you may qualify for our scholarship assistance. You can view our scholarship guidelines here and contact our center director to learn more or receive an application.
Rates
Full-Time 1st Child Rates
Up to 45 Hours Per Week
Infant (6 weeks to 18 months)
$190.00
Toddler (18 to 36 months)
$165.00
Preschool (36 months to 5 years)
$155.00
School Age (5 to 12 years)
$155.00
Full-Time Additional Child Rates
Up to 45 Hours Per Week
Infant (6 weeks to 18 months)
$142.00
Toddler (18 to 36 months)
$123.75
Preschool (36 months to 5 years)
$116.25
School Age (5 to 12 years)
$116.25
We accept Childcare Subsidy, Title XX
Drop-In Service
Drop-in services are offered to anyone based on current capacity availability. Paperwork and the $25 application fee must be filled out prior to care being provided. Call 402-385-6248 for availability.
The drop-in rate is $40.00 per child, per day.
Get the Application Process Started
If you're interested in enrolling your child at Little Sprouts, please review our Welcome Letter and complete the Pre-Enrollment form for each child planning to attend our center. Return the completed form in person, via mail or email to our director.
We look forward to building a great relationship with you and your family!