Occupational Therapy helps individuals regain or develop skills essential for independent living.
Individuals who may be referred to occupational therapy may have diagnoses such as:
hand, shoulder or arm conditions or injuries
arthritis
cancer
lymphedema
post stroke, Parkinson's or other neurologic condition
work related injuries
developmental disabilities
total joint replacements
head injuries
spinal cord injuries
The Occupational Therapy team at Pender Community Hospital see both inpatients and outpatients and work closely with other hospital personnel in order to provide quality services and education to the patients and their families. Occupational therapy's goal is to assist patients in learning or redeveloping skills for day-to-day living.
Treatments may include:
use of adaptive equipment
strengthening
palliative modalities
edema control
fine motor coordination
cognitive/perceptual training
sensory re-education
homemaking/ survival skills
Pender Community Hospital employs two full-time certified occupational therapists. The occupational therapist evaluates the patient's condition/lifestyle and develops a treatment to help the patient reach their full potential of independent living. The certified occupational therapist assistant may assist the occupational therapist with progressing the patient through their treatment program.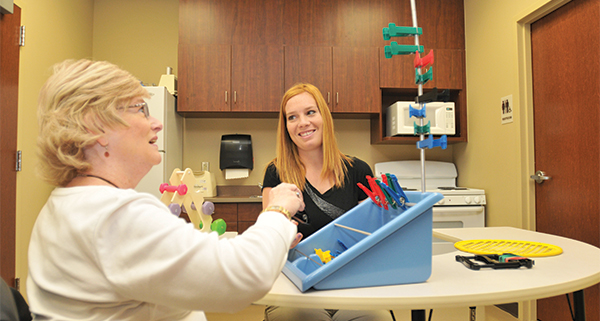 For more information, or to schedule an appointment to see the occupational therapist, please call the rehab services department at 402-385-4026.
Find a Doctor